450 GALLON CAPACITY BOWSER TRAILER FOR TWO WHEEL TRACTORS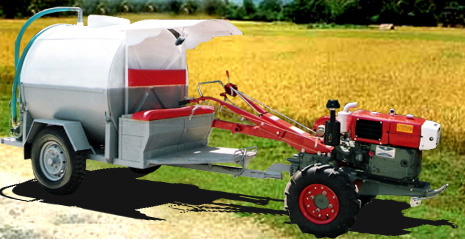 This hand tractor pulled tank of 450 gallon capacity is ideal for small roads with uneven ground conditions and tough terrains, which only a cart or a four wheel drive vehicle could operate.
The steel tank is made out of 3 mm MS steel sheets, cold rolled, electrically welded with a 18" manhole and 2" outlet gate valve. The chassis is made out of strong Angle iron reinforced with steel cross members. The heavy-duty axle with size 14 wheel rims provided with pneumatic tires.
The final painting is done after 2 coats of anticorrosive application. The taillights and the distinct red T plate are provided at the rear of trailer.
The breaking system is HYDRAULIC type, which will be very effective on estate roads to negotiate steep climbs on slippery roads. We provide hydraulic braking system instead of mechanical, which is cheap but extremely conducive to fail under rugged road conditions.
Draw Bar is 2 ½ x 2 ½ x ¼ angle iron boxed.
Chassis is 3 x 1 ½ x ¼ Channel iron chassis fitted with a replaceable hitch eye suitable for any model of two wheel tractors. The tank is provided on the rigid construction of the chassis frame
Tank is Elliptical shape tank made out of 2.5 mm mild steel sheets electrically welded. Tank is tested against any leakage and welding done non stop, inside and outside the two plates at the front and the rear of the tank. It is provided with a 18" manhole with a lockable lid. One gate valve of 2" fitted at the rear as the outlet.
Axel is heavy duty taper roller bearings, axle shaft is 2 ½x2 ½x ¼ boxed, Hydraulic brakes provided on hub and drum type axle.
Wheels is Imported 6.00 x 14 pressed steel wheel rims, fitted with brand new tires.
Paint is Special epoxy paint applied inside of the tank for rubber latex transport and outside the tank with the final painting outside the bowser.